Visual Technologist & Entertainment Designer: Lalindra Amarasekara
A visual technologist and entertainment designer, Lalindra Amarasekara is dedicated to delivering remarkable experiences to audiences. As the co-founder of award-winning Cyber Illusions (Pvt) Ltd, he has been involved in many high-profile events in both Sri Lanka and abroad. We touched base with Lalindra to talk about events – recent highlights, planning tips and biggest challenges to date.
Which recent event sticks out as a highlight?
It has to be the projection-mapped show we did for the Graduation Ceremony of the Military Technical College in Oman. A 9-minute show was produced and was projected across a 540 foot (around 165 meters) long canvas of the College itself. (Check out the video!)
It is both exciting and nerve-wracking when a client entrusts you with total creative and technical control of a project. Especially, when the scale of the project meant it was to be one of the largest in the country. The company GT-StageTech ensured from the outset that we received all the support required on time to design and execute the show.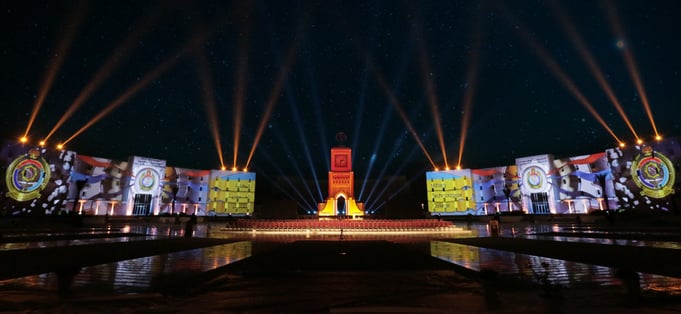 Importantly, the client dedicated time and energy to really understand our creative direction and intent for the project. This reduced a lot of questions back and forth, and eliminated unnecessary production revisions.
This faith and confidence displayed at the planning stage made the design and production process easier. Our team also felt that they were able to manage time and perform at our best.
What is your advice to marketers and clients when planning an event?
Use the right partners, right amount of detail and right kind of communication!
Sourcing the right partners is crucial for the success of any project. The partner needs to match with the particular type of project. In order to be able to select the said partner, the project outcome must be clearly understood. One of the biggest mistakes is identifying the technology or gimmick first – before the expected result is fully understood.
Having the right amount of detail in the initial brief is also critical. The brief should give a clear overall picture of what you want to achieve, the project outcome. Questions should be asked by both parties to clear any doubts.
Once the initial selection and briefing is complete, communication becomes the driving force of the project. Easy and efficient channels for communication should be established. There are many tools available which work better than email and phone calls.
What is the toughest event you have ever worked on?
The toughest project to-date has been the 360-degree projection mapping of one of the largest monuments in the world, the Ruwanwelisaya Stupa of Sri Lanka. It stands at 103 meters high with a circumference of 290 meters.
Built around 140 BC, the Stupa is a UNESCO World Heritage site and revered by Buddhists all over the world. There were many challenges starting with the significance of the site. We had to take every precaution to safely install projectors, power and servers also ensuring every last piece of material used is removed without damage to the location.
How did you beat the challenges?
This project was especially challenging as we only received strong orders to execute the project but minimum ground support. Once all was confirmed we had less than 18 days for the production!
We had to import all projectors and lenses as the necessary hardware was not available on the island. Further, a project of this scale had never been executed on the island.
We had to appoint and staff the specialised teams for structures, power and networking. When that was done, we sat down with the teams for almost 48 hours straight to plan all operations from content production to load in and load out.
The 360-degree structure meant each projection point was 70 m apart. We decided to go with the solution of multiple servers connected via a high-speed network. As the hemispherical structure was not visible from one single point, wrapping content on the structure required great planning. The 3D capabilities of Dataton WATCHOUT turned out to be very useful for our content and onsite workflows.
Some people felt the project might pose a threat to such religious spaces, while others applauded it as a leap in technology and innovation. We felt both proud and privileged to have been entrusted with the event.
Published in Collaboration with Dataton
Also by News & Views by Dataton :
Projection Design For Theatre: Robert Mallin And "ENRON"
Creativity, Technology, Innovation: Piotr Majewski – Co-Founder of MOOV
Join TheatreArtLife to access unlimited articles, our global career center, discussion forums, and professional development resource guide. Your investment will help us continue to ignite connections across the globe in live entertainment and build this community for industry professionals. Learn more about our subscription plans.
Love to write or have something to say? Become a contributor with TheatreArtLife. Join our community of industry leaders working in artistic, creative, and technical roles across the globe. Visit our CONTRIBUTE page to learn more or submit an article.